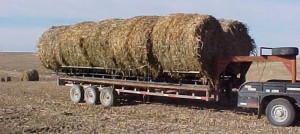 Simply put, Pride of the Prairie bale carriers are the fastest, most cost effective round bale movers on the market.
Pride of the Prairie carriers are heavy built, with few moving parts for virtually no down time. Both sides unload at the same time.
If you have the running gear and have a lot of bales that you need to move fast, Pride of the Prairie is the affordable choice for hay transport
Just turn the jack to trip the cradles and let gravity do the rest!
Pride of the Prairie Bale Carriers are available in 8 sizes to fit your needs:
4 bale – 11' 12 bale – 32'2"
6 bale – 16'2" 14 bale – 36'2"
8 bale – 21'2" 16 bale – 42'2"
10 bale – 26'2" 18 bale – 46'2"
Unit is inside legal highway width when empty (8'5"). Unit can be loaded from the side or bales can be pushed on from the end.
Additional height is available on carriers to allow for fender clearance on lowboy and car hauler type trailers.
A third row of bales can be hauled if the trailer, axles, and tires are heavy enough to carry the load with the top row carrying one less than the bottom 2 rows.